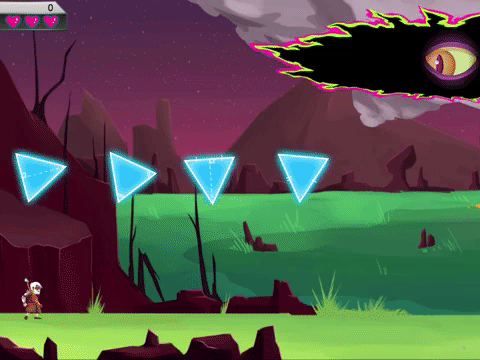 I designed and developed a series of educational math video games for use in high school math courses across the country. Featuring characters and scenes illustrated by the talented Mike Holmes, 'The Legend of Geomethor' taught various algebra and geometry topics through retro, playful platformer action. 

The interactive,web-based HTML5 game series was an interactive solution I proposed as an alternative to the standard series of assessment quizzes at the end of this high school e-learning geometry course. The games simultaneously gave students a reward at the end of a lesson, and a legitimately challenging roadblock which relied on applying the math concepts to help your character survive. 

I worked side-by-side with the curriculum developers to ensure each level was an accurate and measurable assessment of the students' comprehension of the course material. We crafted a 'completion code' that was generated at each successful level completed. It contained an encrypted numerical report of the students' performance within the game, percentage of correct answers, and how long it took the student to complete the level. This code was sent to each student's teacher in place of a standard quiz score.
I developed the series as web-based HTML5 games in order to ensure seamless integration into the cloud-based curriculum platform. I also ensured seamless desktop and mobile compatibility with multi-touch controls. By avoiding any required apps, plugins or installations, the series was accessible for all students using any standard devices to take the course.